I've been having a hard time on the program lately, and I decided that part of the problem was being in a rut with my food. I got comfortable with 10 or 15 recipes, knew how to shop to prepare those recipes, and ceased trying new ones. Then, being bored of eating the same food all the time, I strayed whenever out of the house. So I made a pact to try two new recipes per week for a month. Here's the product of that for this week. I had some coconut milk on hand, hence the eastern bent of these recipes:
Pumpkin Curry Chicken
Serves: 2
Points: 7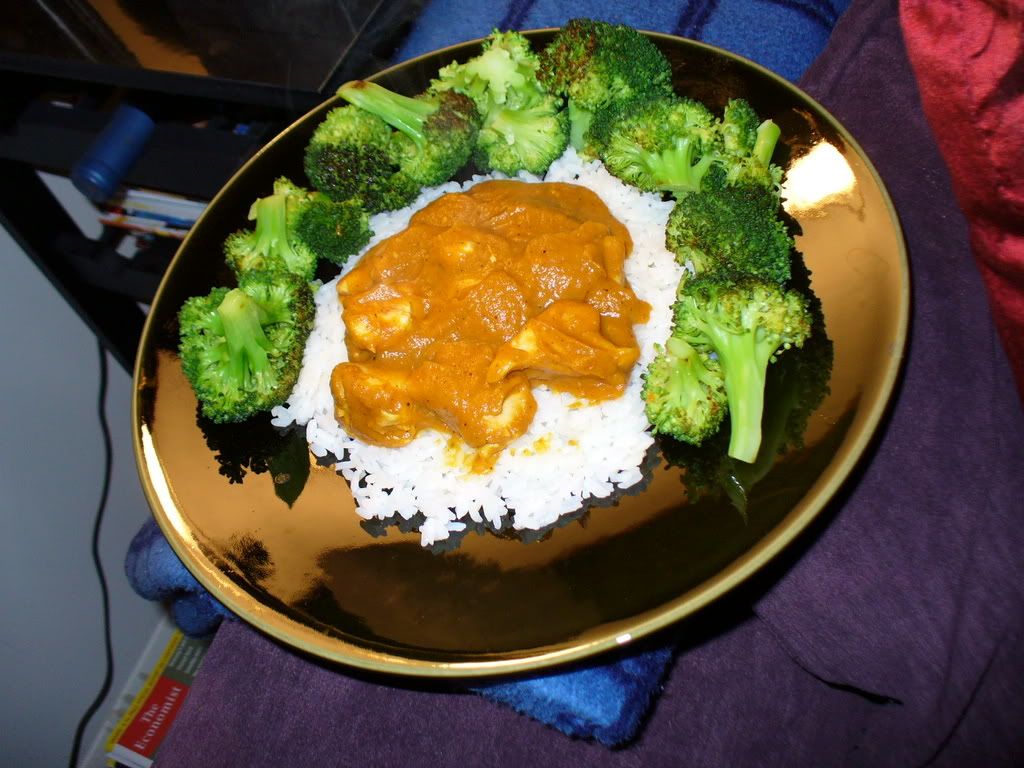 1 tbsp red curry paste
2/3 c. canned pumpkin
1 tbsp fish sauce
8 oz boneless skinless chicken breast, cubed
1 tsp unpacked brown sugar
6 leaves basil
1/2 c. coconut milk
2 tsp vegetable oil (I used Olive because it's healthier)
1/4 cup fat free chicken broth
1.) Boil coconut milk in a pan over medium heat until it starts to reduce.
2.) Separately, heat oil in a wok, add red curry paste, stir for 2-3 minutes until cooked. Add chicken, stir until meat is cooked.
3.) Add boiled coconut milk, chicken broth, and pumpkin. Simmer 2-4 minutes.
4.) Add fish sauce, sugar to taste. Add basil leaves. Simmer 1 more minute.
5.) Serve over steamed rice.
Vietnamese Curry Soup
Serves: 4
Points: 5
2 tsp olive oil
1 cup onions, chopped
2 medium garlic cloves, minced
1 tbsp ginger root, chopped (I used powdered ginger, didn't have fresh on hand)
1 tbsp curry powder
1 tsp lemon zest
1 medium sweet pepper, seeded and chopped
2 medium carrots, chopped
8 medium cremini or button mushrooms, sliced
14 oz vegetable broth (I used chicken)
2 cups water
2 bay leaves
1 tsp table salt
2 red potatoes, scrubbed and chopped
4 oz rotisserie chicken (pulled off one of those supermarket pre-made ones)
14 oz light coconut milk, canned
4 tbsp cilantro, fresh, chopped
1.) Heat oil in a large stock pot over medium high heat. Add onion, garlic, and ginger, and saute 2 minutes. Stir in curry powder and lemon zest and cook 2 minutes, until curry is fragrant. Add pepper, carrots, and mushrooms and stir to combine. Add broth, water, bay leaves, and salt, and bring to a boil.
2.) Stir in potatoes and coconut milk and bring to a boil. Reduce heat to medium and cook until potatoes are fork-tender, about 10 minutes. Half way through the 10 minutes, add the chicken.
3.) Remove the bay leaves. Ladle soup into bowls and top each serving with 1 tbsp of chopped cilantro. Yields 1 1/2 cups per serving - generous!