I am irritated, though mostly at myself. And I ought not be. I managed to have a nearly perfect Saturday today.
Leisurely and delicious breakfast; finally getting a chance to peek at the rabbit who so often comes out to eat clovers after I've left for work.
Hot, relaxing shower. Hair came out great, picked out a cute outfit.
Off to the 'Friends of the Durham County Library' book sale. A used book sale - one of my favorite things. Overhearing a few funny remarks, like 'ribs' replacing 'cheese' in the expression "Want some cheese with that whine?" How Southern. A pithy but enjoyable convo with a fellow sci-fi nerd about what really belongs in said section. Leaving the friends with a GIANT stack of awesome books that only cost $27:
Afterward, a quick walk around the downtown loop. Stopping at my favorite local lunch joint -
Toast
. Hip, but not so hip I feel out of place. Common man hip. Full of bright colors and bright conversations.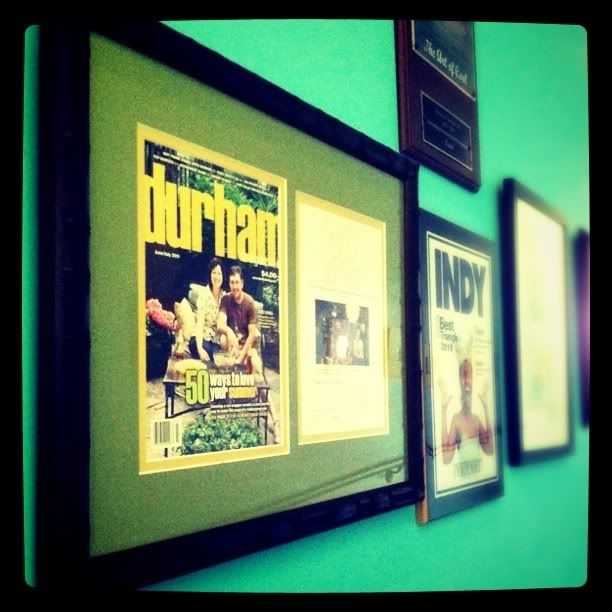 Fresh, local and seasonal ingredients turned into mouth-watering paninis. I choose the 'local farm egg, tallegio and chives' with a side salad of mixed spring greens and shaved parmesan. It is amazingly simple, yet as warm and fulfilling as it looks: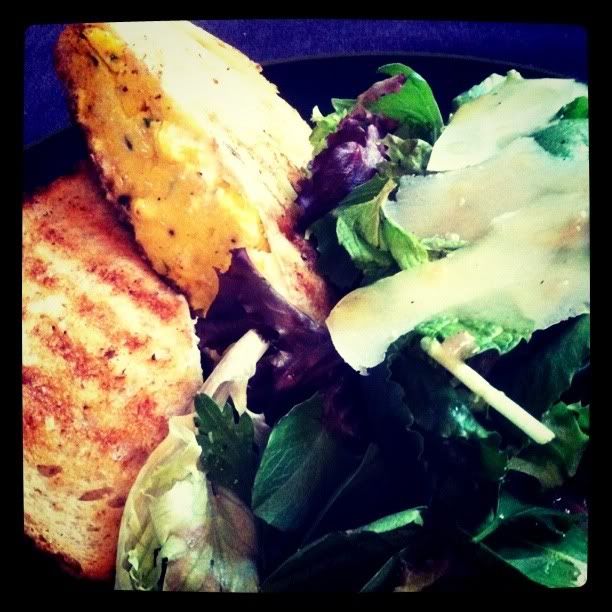 Coming home, reuniting with the bro. Watching the first few innings of the Saturday Fox baseball game (free on basic digital antenna airwaves - we don't have cable at our house). Yankees/Red Sox - a treat to secretly root against both of them. Half watching the game. Using my favorite pen to record inside each of my new books the date and location where they were acquired. Delighted to find that a few previous owners had done the same, now joining and sharing our history by adding a name. Hoping the next owner will appreciate it as much as we do.
Cracking one of the new books for a few hours. "Because It Is Bitter, and Because It Is My Heart," by Joyce Carol Oates. Trying to give her another chance, as she's a favorite author of both my sister and my oldest brother. Enjoying the change of style from my most recent read. Raining but not threateningly. Just lightly enough to create a pleasant din to accentuate the softness of an afternoon spent in a book.
Indian take out for dinner while watching "That 70s Show" on Netflix with the bro. How to spend the rest of an otherwise perfect day? Ruining it, briefly, but trying now to recover it. Write. Get it out. I'll leave you with some Elliott Smith.